Nevadans Highlighted the Impact of Climate Change on Communities in Light of Continued Record Temperatures, Wildfires, and Other Climate Incidents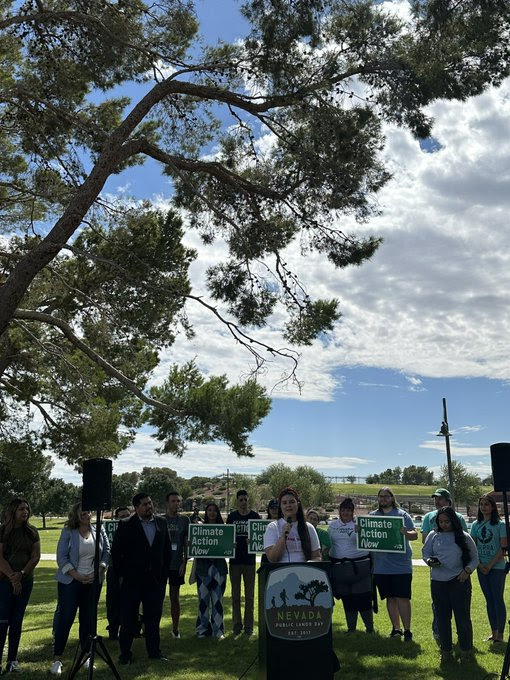 LAS VEGAS, NV – Today local elected officials and advocates gathered together for a press conference on Public Lands Day to highlight climate issues facing Nevadans. Speakers discussed the need for improved climate policies and solutions to climate issues like rising temperatures and wildfire smoke. In light of continued record temperatures, especially in the Las Vegas Valley, speakers focused on how these things impact communities. All groups involved in Public Lands Day want to extend a thank you to Governor Lombardo and his office for issuing a proclamation which is attached here.
"On National Public Lands Day, I'm looking forward to standing with advocates and local leaders to highlight the importance of our treasured landscapes and precious environment. They are important for our outdoor tourism industry and for the well-being of our planet," said Congresswoman Dina Titus.
"Public Lands Day in Nevada represents our state's immense history, rich tradition, and continued commitment to conservation," said Senate Majority Leader Nicole Cannizzaro. "When I introduced legislation to recognize Public Lands Day, I did so with the understanding of the importance public lands have for indigenous communities and the impact they have on our economy. As we use this day to recognize our public lands and their significance, let us also reaffirm our never-ending commitment to ensuring every Nevadan has access to clean air, safe drinking water, and a place we can all call home."
"Since time immemorial, the Great Basin has been more than a backdrop; it is the fabric of our cultural and spiritual identity," said Taylor Patterson, Executive Director of Indigenous Voices of Nevada. "These public lands house the remnants of ancient civilizations, guarded by generations of ancestors and awaiting discovery by future Nevadans. But these sacred grounds are now endangered by climate change — wildfires, drought, and extreme heat. The urgency to conserve and protect these lands is not just a call to honor our past; it's a critical imperative for future generations' well-being and justice. Our essence is bound to these lands; protecting them is safeguarding our collective future."
"For years Black Indigenous People of Color (BIPOC) and frontline communities have taken on the majority of the burden that has resulted from climate change and the dismissal of just how impactful and dangerous it is to those communities," said Cinthia Moore, Coalition Coordinator, Nevada Environmental Justice Coalition. "To finally begin to bring light to this disastrous issue by having an official Public Lands Day is fantastic, but it is not enough. We need further action to be taken, this summer has gone on record to be the hottest in human history, this tells us that the conversation of climate change is inevitable and we need to do more on a state level and national level in order to protect the future for generations to come."
"One of the most meaningful ways we can pay tribute to our beloved public lands is by actively engaging with our communities to protect Nevada's great outdoors while working on equitable access," said Nevada Conservation League's Political and Organizing Director, Andrew Sierra. "This day renews our commitment to rekindling the passion that fuels our advocacy. We're motivated to continue to preserve the splendor of Nevada's natural beauty and continue to be stewards of these precious places for current and future generations."
ABOUT PUBLIC LANDS DAY: Public Lands Day is the nation's largest, single-day volunteer event for public lands, and will be held this year on Saturday, September 23, 2023. During our 7th annual Nevada Public Lands Day celebration, we will be highlighting how BIPOC communities are being disproportionately impacted by the climate crisis, the actions community members can take, and highlighting important information.
SPOKESPEOPLE ARE AVAILABLE FOR COMMENT IN ENGLISH AND SPANISH
###